Bhaskar Eknath Yadav (1954 - 2010)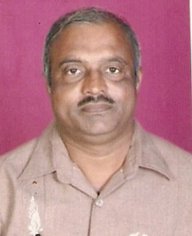 Born in a modest family in Pune, Maharashtra, India Dr.Bhaskar Eknath Yadav was working as Scientist at Western Regional Centre, Zoological Survey of India, Pune He rose from a lowest post in the department with his sheer hard work.
Though Dr.Yadav did his Ph.D on Title: "
Studies on Systematics, Zoogeography of the fishes of Western Ghats with observation on the status of endemic species
", his main area of interest remained Taxonomy and Ecology of Scolopendrid centipedes, besides also he studied Scorpion behavior and published more than 100 research papers in various journals of repute.
Dr. B.E.Yadav acted as co-guide for nine projects including seven on the fishes and two on centipedes for M.Sc. students under Pune University and extended guidance and suggestions for research leading to the award of Ph.D. to many lecturers and students in Maharashtra state.
He remained actively associated with me for many of his projects on centipedes and despite his tremendous experience he was in the habit of learning more.
He was a nice gentleman. His exodus is a personal loss to me, scientific fraternity, in the department, in India and outside and a great loss to Arachnomyriapodology.
Let's pray almighty God to rest his departed soul in peace.
Dr.Vinod Khanna
Zoological Survey of India
Northern Regional Centre
218 Kaulagarh Road, Dehra dun 248 001 (INDIA)
Copyright © Centre International de Myriapodologie, Senckenberg Museum of Natural History Görlitz