Back to: antennae
Forward to: haplosegments
---
Collum
The collum is counted as the first body ring (see the body plans page). It is actually just a plate (C) sitting directly behind the head (H) on the dorsal side of the exoskeleton: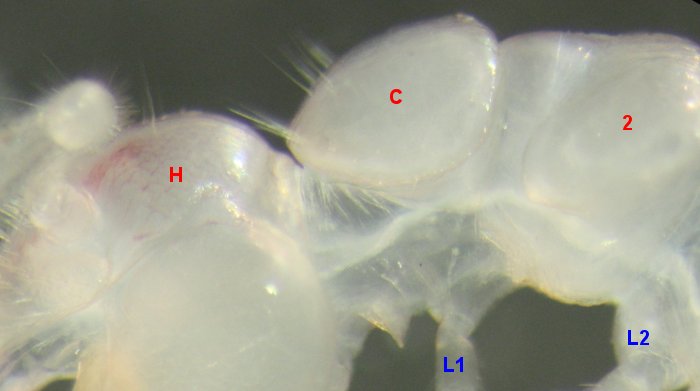 Male Lissodesmus perporosus (Dalodesmidae), Tasmania. This specimen has been treated with 80% lactic acid to dissolve away all soft tissue, and the gut has been removed. What remains is the exoskeleton. See also the haplosegments page.
The collum in Polydesmida varies greatly in size and shape (see image gallery below), even within polydesmidan families. In some families it completely hides the head when viewed from above. Collum sculpture and pattern of setae are usually similar to those on the tergites of the haplosegments.
Unidentified polydesmidan
Borneo
Image © 2009 by Paul Bertner
Used with permission

Unidentified polydesmidan
Borneo
Image © 2009 by Paul Bertner
Used with permission

Unidentified polydesmidan
Borneo
Image © 2011 by Arthur Anker
Used with permission

Orthomorpha enghoffi
Paradoxosomatidae, Thailand
Image courtesy
N. Likhitrakarn

Pratherodesmus despaini
Macrosternodesmidae, USA
Image courtesy
W.A. Shear

Pacidesmus tiani
Polydesmidae, China
Image courtesy
S.I. Golovatch

Asphalidesmus parvus
Suborder Dalodesmidea
Tasmania

Trichopeltis deharvengi
Cryptodesmidae, Vietnam
Image courtesy
S.I. Golovatch

Eutrichodesmus incisus
Haplodesmidae, China
Image courtesy
S.I. Golovatch
---
Back to: antennae
Forward to: haplosegments