Back to: limbus
Forward to: spinnerets
---
Setae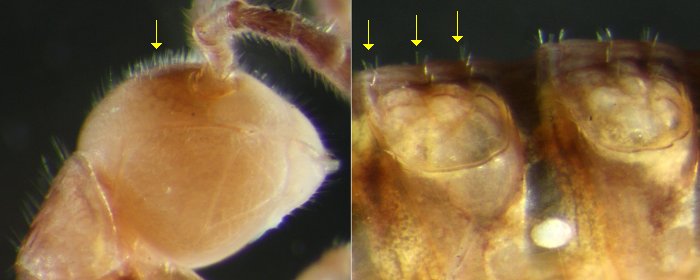 Stadium 6 Tasmaniosoma hickmanorum (Dalodesmidae), Tasmania
Right lateral views of head (left) and midbody metatergites (right)
The 'hairs' that are found over most of a polydesmidan's body are called setae (singular seta). They are especially numerous on the front of the head (image above left, arrow), the antennae, the legs and the top of the preanal ring. Some species have three transverse rows of setae on the tergites and metatergites (image above right, arrows), and most species with paranota have a few setae on the margins of the paranota and the metatergites. These marginal setae are present in juveniles of many Polydesmida but are often absent in adults of those species.
Setae are usually sensory structures which send information to the millipede's central nervous system. Some setae have other functions: see the spinnerets page and the discussion below.
The structure of a seta can only be clearly seen under very high magnification. Some setae are simple and 'hair-like', and vary only in length and thickness. Other setae are more complicated (images below). Any one individual polydesmidan will have a range of setal types on its body.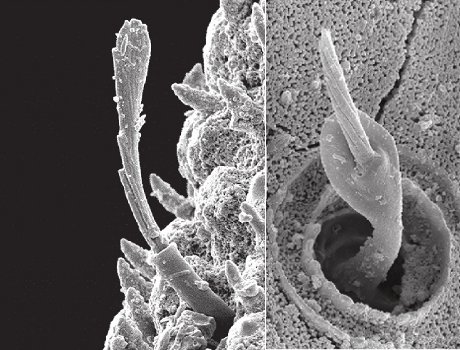 Two-part, ribbed setae found on metatergites in Haplodesmidae
Left: with a flared tip, emerging from a tall, cylindrical sheath (Eutrichodesmus griseus, Vietnam)
Right: with a rod-like tip, attached to a flared base (Eutrichodesmus similis, China)
Images courtesy S.I. Golovatch
Under relatively low magnification, three kinds of setae or setal groups can be seen and are useful in classifying and identifying Polydesmida. The first are the 'tufts' of setae which are present in some species on the sternites, usually in adult males. The number and position of these tufts varies from species to species, and some Polydesmida do not have any sternal tufts at all. (See the sternites page for images of tufts used to support the gonopods.)
Second, sphaerotrichomes (images below) are found on the legs of adult males in the families Dalodesmidae and Polydesmidae. Each sphaerotrichome is a ribbed sphere or part-sphere from which a seta emerges and points distally (towards the end of the leg). In the Tasmanian genus Gasterogramma, the seta is missing entirely from the sphaerotrichome.
Atalopharetra johnsi
Dalodesmidae
Victoria, Australia

Bromodesmus catrionae
Dalodesmidae
Tasmania

Gasterogramma psi
Dalodesmidae
Tasmania
Sphaerotrichomes are usually found on the ventral surface of the tarsus (image below, left) and sometimes on other podomeres as well. They tend to be more numerous on anterior legs. Since sphaerotrichomes are only found on adult males, they probably play a role in mating.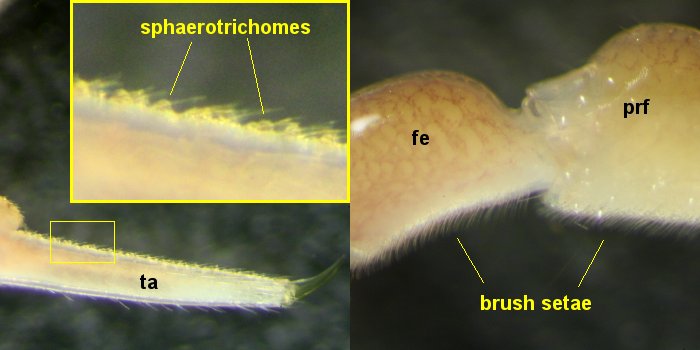 Adult male Tasmanopeltis grandis (Dalodesmidae), Tasmania
Inset in left image is magnified view of marked rectangle
A third setal feature to look for are setal brushes or setal pads, again on the legs of adult males. In Dalodesmidae, short 'brush setae' are found on the more basal podomeres (image above, right) and sometimes have expanded tips or branches (images below). These increase the surface area of the brush, and may help males to cling more tightly to females during mating, like a gecko lizard clinging to a wall with the setae on its toes.
Tapering tips
Lissodesmus modestus
Tasmania

Expanded tips
Bromodesmus catrionae
Tasmania

Forked tips
Tasmanodesmus hardyi
Tasmania

Mid-length branch
Orthorhachis weiri
New South Wales
Australia
Clinging strength can be increased by clumping many setae together. This may be why adult males of Paradoxosomatidae often have particularly dense setal brushes on their tarsi (image below).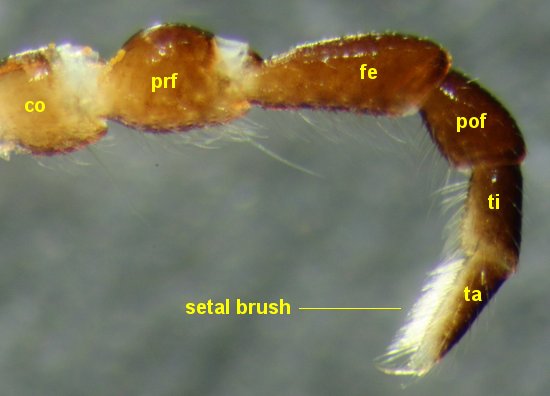 Adult male Somethus tasmani (Paradoxosomatidae), Tasmania
---
Back to: limbus
Forward to: spinnerets